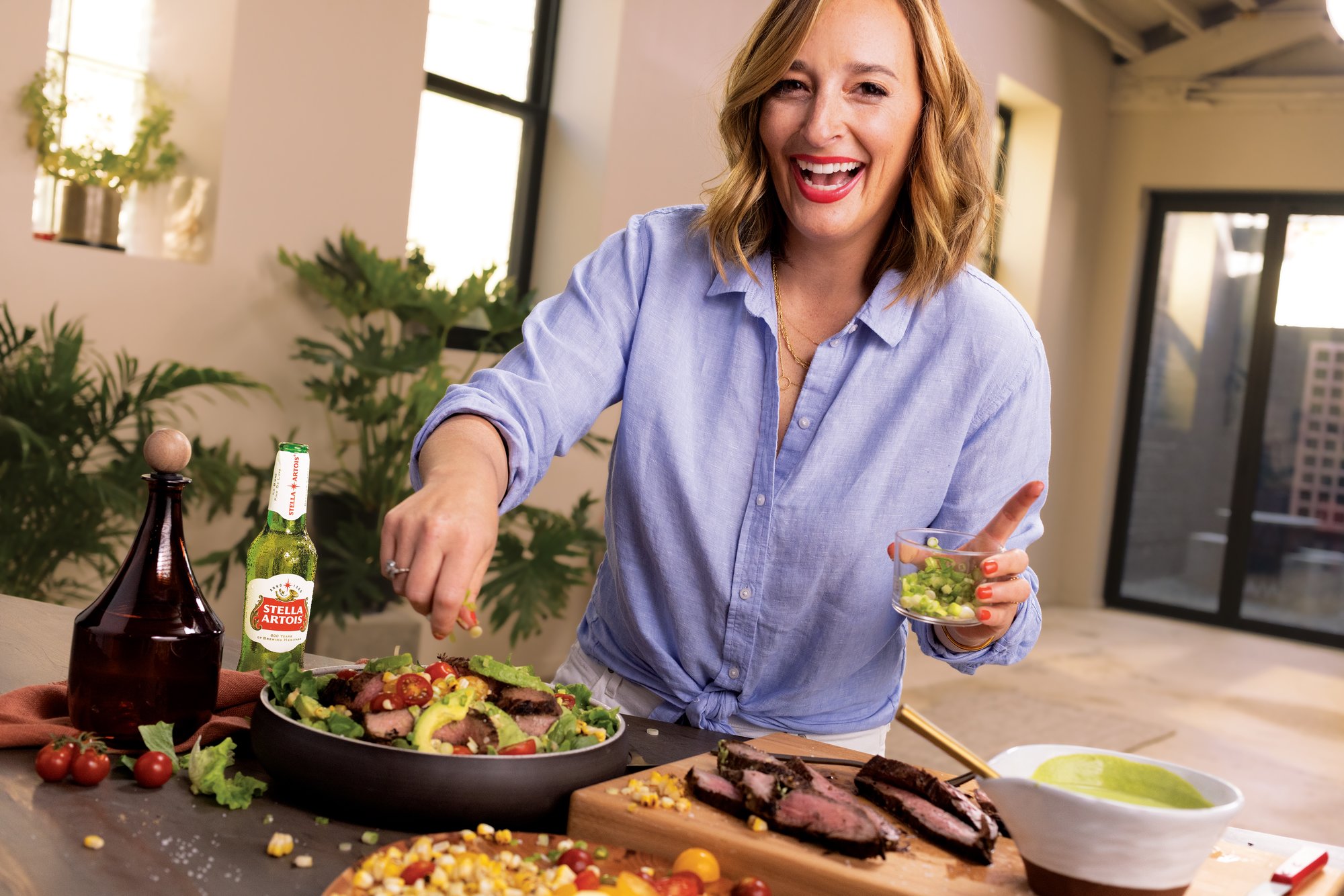 GABY DALKIN
Loaded Steak Salad Bowl



flank steak
olive oil
red wine vinegar
garlic
flat leaf parsley
fresh oregano
red pepper flakes
cracked black pepper
1lb
¼ cup
½ Cup
2 cloves finely chopped
3 TBSP chopped
2 tbsp
1 tsp
¼ tsp
Shredded Romaine
Cherry Tomatoes
Avocados
Scallions
corn on the cob
4 cups
1 Cup
2, cut into chunks
3 sliced
2 grilled, sliced off into
sheets
Cilantro Lime Yogurt Dressing
Cilantro
Packed Basil
Jalapeno
garlic
Fresh Lime Juice
Stonyfield organic
greek yogurt
Kosher Salt &
Black pepper
Olive Oil
1 Bunch
1 cup
1 Cup
3 cloves
3 TBSP
For the Steak
Combine the ingredients for the flank steak marinade.
Add the steak and let it marinate for 2 hours.
Heat a grill to medium high heat.
Remove the steak from the marinade and generously season with salt and pepper.
Place the steak on the grill and grill for 4-6 minutes on each side, turning 90 degrees halfway through to get criss cross grill marks.
Cook until medium, depending on your preference, and then remove to a cutting board and let the steak rest for 10 minutes.
Slice the flank steak against the grain and use for the salad.
For the Cilantro Lime Yogurt Dressing
Combine ingredients in a blender and adjust salt and pepper as needed. Refrigerate until ready to use.
For the Bowl
Arrange everything in equal amounts in 4 bowls and serve with the dressing drizzled on top.